Low Carb Slowcooker Beef Stew.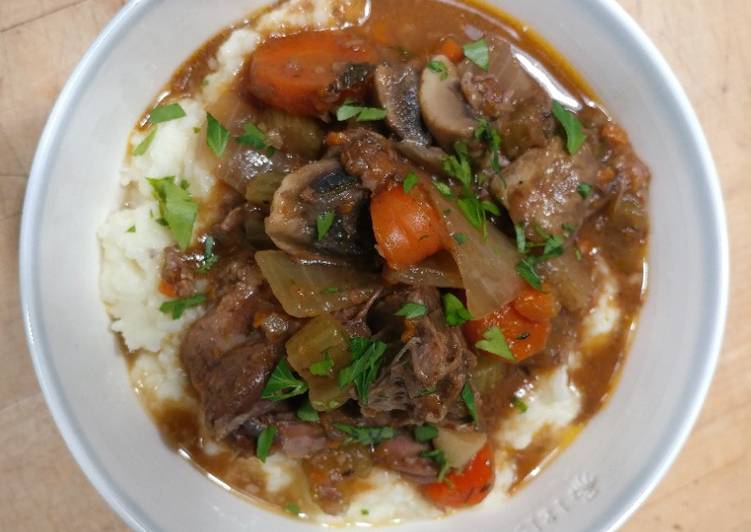 You can have Low Carb Slowcooker Beef Stew using 16 ingredients and 6 steps. Here is how you cook that.
Ingredients of Low Carb Slowcooker Beef Stew
It's 3.5 Lb of Chuck Roast Trimmed & Cut Into 1.5 Inch Cubes (approx.).
Prepare 2 Cups of Low Sodium Beef Broth.
It's 1 Tbsp of Worcestershire Sauce.
It's 1 Tbsp of Tomato Paste.
It's 2 Tsp of Kosher Salt.
It's 1 Tsp of Freshly Ground Black Pepper.
You need 1/2 Tsp of Dried Oregano.
It's 1/4 Tsp of Dried Rosemary.
It's 1/2 Tsp of Dried Parsley.
It's 1/4 Tsp of Marjoram.
Prepare 2 Tsp of Fresh Thyme Leaves.
It's 5-6 of Carrots Sliced into 1 Inch Pieces.
You need 4 Cloves of Garlic Minced.
You need 3 of Celery Stalks Cut into 1/2 Inch Pieces.
Prepare 1 of Large Yellow Onion Chopped.
It's 8 Oz of Package of White Button Mushrooms.
Low Carb Slowcooker Beef Stew step by step
I started with getting my meat and veggies in the crockpot. I used a 3.5 pound chuck roast which I trimmed and cubed into about 1.5 inch pieces. I chopped 1 large onion, 5 carrots, 3 celery stalks, and 3 cloves of garlic. Turn your crockpot on the low 8 hour setting. Add the veggies first and then put the cubed meat on top. Cover and let it start to warm while you get your broth and seasoning ready..
In a bowl Combine 2 cups of low sodium beef broth, 1 tablespoon Worcestershire sauce, 1 tablespoon tomato paste, 2 teaspoons salt, 1 teaspoon pepper, 1/2 teaspoon dried oregano, 1/4 teaspoon dried rosemary, 1/2 teaspoon dried parsley, 1/4 teaspoon marjoram, and the leaves from a few sprigs of fresh thyme (about 2 teaspoons.) Mix well and then pour over your meat and veggies..
Cover and let cook for 7 hours (stirring every 2 hours.).
After 7 hours spoon out some of the broth and veggies (about 1.5 to 2 cups.) Either use a blender or an immersion blender to blend until smooth, but be very careful because it is very hot..
Add one 8 ounce pack of mushrooms (quartered,) and add the broth and veggies you just blended. Give it a taste and add salt and pepper to taste..
Stir and let cook for the last hour uncovered. By blending the veggies and broth you make a thicker gravy without having to use flour or cornstarch. I served it over a cauliflower mash. If you're wanting to indulge rice or potatoes are good serving suggestions as well..