Chicken and Ginger Soup with Chayote & Spinach(Tinolang Manok).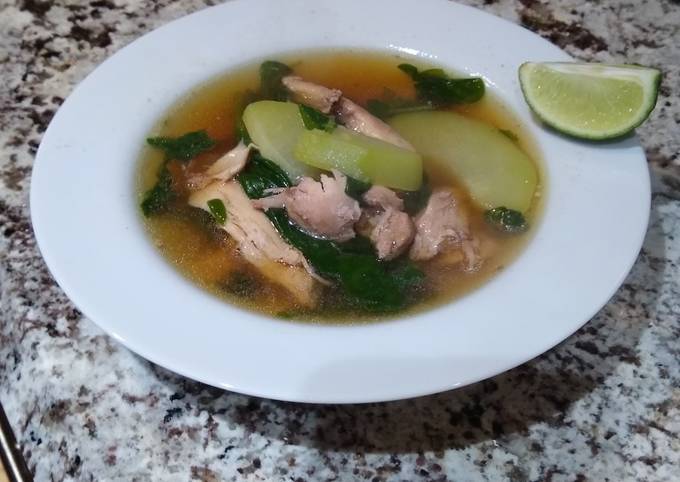 You can cook Chicken and Ginger Soup with Chayote & Spinach(Tinolang Manok) using 13 ingredients and 15 steps. Here is how you achieve it.
Ingredients of Chicken and Ginger Soup with Chayote & Spinach(Tinolang Manok)
It's 4 of large chicken thighs, skin on, bone-in.
Prepare to taste of Sea salt,.
Prepare to taste of Cracked black pepper,.
You need 1 teaspoon of canola oil.
It's 2 of two-inch pieces fresh ginger, each about thumb-sized, peeled and julienned.
It's 4 of fat cloves garlic, peeled and chopped.
You need 1/2 of large onion, rough chopped.
You need 2 quarts of water.
It's 3 tablespoons of fish sauce.
You need 1 of large chayote, peeled, cut in half lengthwise then cut crosswise into ½-inch thick slices.
It's 1 tablespoon of Knorr chicken bouillon.
Prepare 5-6 ounce of bag ready to use baby spinach.
You need 1 of lime, cut into 4 wedges, for serving.
Chicken and Ginger Soup with Chayote & Spinach(Tinolang Manok) instructions
Liberally season thighs with salt and pepper on both sides. Heat the oil in a dutch oven or large soup pot on medium heat. Once hot, add the chicken, browning on both sides. Remove chicken to a plate and drain away all but 1 tablespoon of the chicken fat..
Add the ginger to the pot and sauté for 1 minute then add a splash of water, stirring to loosen up the browned bits stuck to the bottom of the pan..
Continue stirring for one minute then add the onions and garlic, sautéing until the vegetables are tender, about 3 to 5 minutes longer..
Return the chicken to the pot along with any juices they released..
Pour in 2 quarts of water, add the fish sauce and bouillon, stirring well to incorporate then cover and bring to a boil..
As soon as the soup starts to boil, turn down the heat to the lowest setting to just barely produce a simmer and set a timer for 35 minutes..
Once the timer goes off, remove the chicken to a clean platter; set aside..
Carefully strain the soup, discarding the now spent veggies..
Rinse out the dutch oven or soup pot and return it to the heat on medium low, add back the now strained and clear broth..
Remove and discard the skins from the chicken. Using two forks, shred the chicken, pulling it away from the bones; discard the bones and return the shredded chicken to the simmering broth..
Taste the broth and add more salt if needed..
Add the chayote and simmer for 15 to 20 minutes or until the vegetable is fork tender but still firm..
Turn off the heat. Add the spinach, pushing it down so it's submerged..
Place the lid on the pot and let the spinach wilt for two minutes.
Garnish with a squeeze of lime..